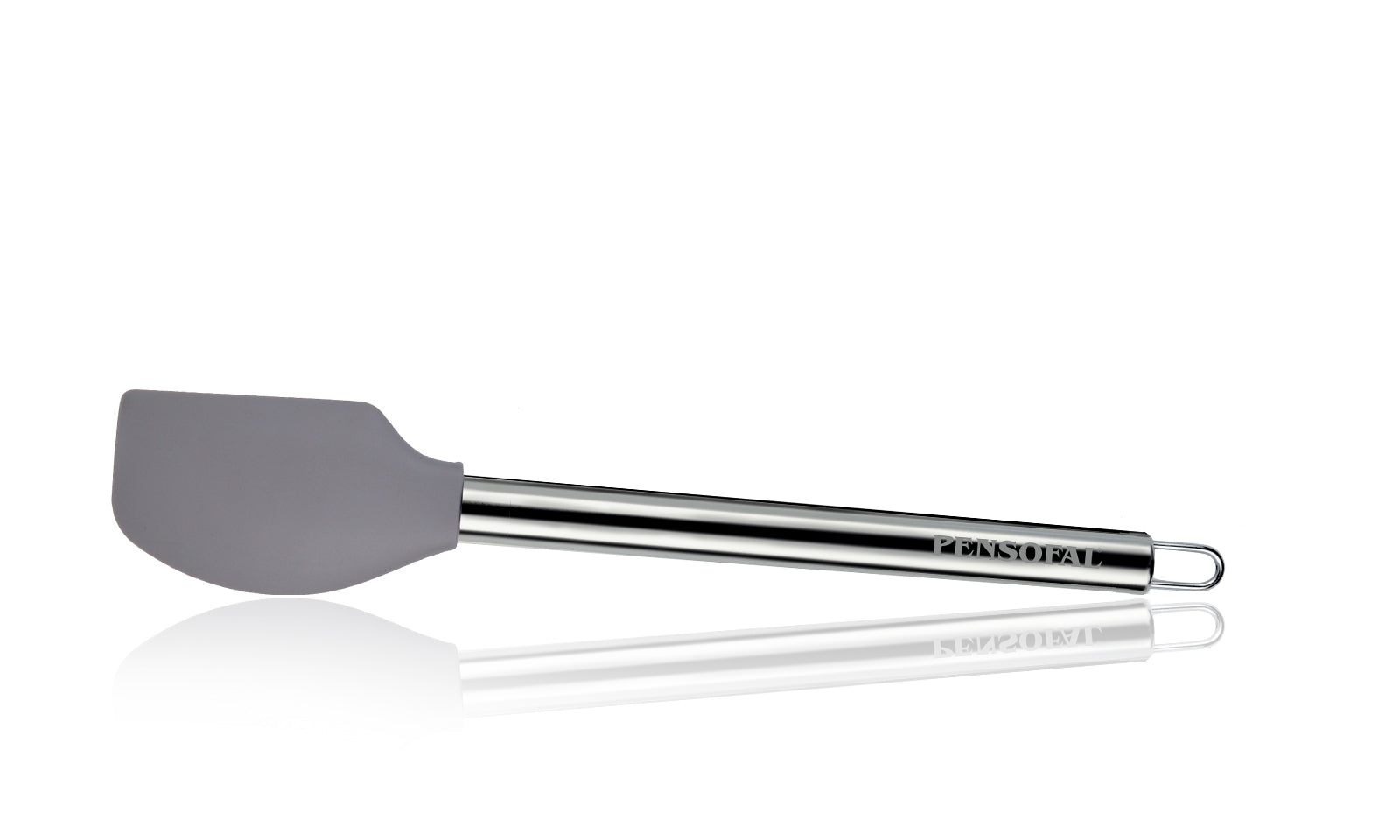 Heat-resistant (250°C) semi-rigid flexible silicone spatula made with the highest quality stainless steel handle.


The silicone spatula has an exclusive design with attention to every detail.


This kitchen utensil is ideal for spreading, mixing, kneading, leaving no traces of dough or preparation inside bowls, pans or pans.


The silicone spatula has a thin flexible edge that perfectly cleans bowls, pitchers or blender cups without leaving a trace of the dough. One side allows you to reach corners while the other side allows you to reach rounded parts.


It can also be used in steel vessels, plastic bowls or directly in nonstick cooking vessels (including pans) since it does not damage the coating.


The tool is immune to acid attack, does not absorb food odors or colors, and is easy to clean. Silicone spatula is provided.


Sizes: 32.5 x 5.5 cm
Non utilizzabile in forno

Utilizzabile in lavastoviglie

Acciaio inox e silicone alimentare
Il Nostro Prodotto di Punta
Pastasì family in Alluminio riciclato 100% riciclabile.
Pentola multiuso che, con il sua esclusivo e brevettato sistema di chiusura del coperchio, consent to di scholar perfettamente Pasta, Dalla Pents. Senza Coperchio può would be utilizzata Anche Casseruola Oh Risottiera. Pastasì family risulta being comoda anche by serve direttamente in Tavola.
1 pfas toneAcid ulcrative opulluoroacrilici Spesso utilizzati in Vari ambition della produzione industrial, tra, pentole e Padelle Antiaderenti. 1 pfas tone ritenuti cause di turtinamento delle acque e nel lungo perodo present nell 'uomo alcuni disturbi e serious Patologie. Nel rispetto dell'ambiente e soprattutto della your safety, abbiamo preferito not pay attention 1 tempi normativi che ne vietano l'uso, ma abbiamo eliminato già da alcuni years i pfas da ogni tipo di rivestimento, come già avvenuto in passato per il pfoa.
A Support, 101 tone ovviamente, tutte le certificazioni.
Facciamo one Sforzo Considerevole by promoover gli aspete ambiental ambient, the envoys alla our attention almso al tempo stesso il BENESSER gods chi sceglie 1 our products. Vogliamo raggiungere il cuore di chi come if you were preoccupa degli ambiental envoys ai prodotti che acquista. Tutte le our pentole nascono da un 'approfondita ricerca di come single strumento da cucina possaGreen The tutti gli aspetti. Abbiamo scelto infatti ESPLUSIVAMENTE Manicus e maniglie in acciaio inex, eliminating completamente qualiaiasi material plastic dai prodotti e dal packaging.
In the search for innovation and excellence, our collections reduce the resources used and CO2 emissions through the use of recovery material that also reduces the use of artificial chemicals, replaced by materials from sustainable and verified sources To protect your health and the environment, our items are produced with water -based coatings without harmful solvents, Pfoa, Pfas, BPA and heavy metals such as cadmium, nickel and lead.